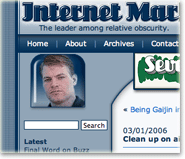 Contest. Linking. Non A-listers. Cash prize? Could you repeat that into my good ear? It's true, John Scott, the writer of the outstanding and heretofore Indie Virused Internet Marketing Blog, announced a $10,000 linking contest on March 1.
Although I was born in a barn and did not catch wind of this until yesterday, tons of folks know about the contest because John's original announcement has received 181 comments to date! With a $3000 grand prize on the line, this is to be expected. At this point, however, my question is this: doesn't it seem logical that The Indie Virus would absolutely be in the pole position for the grand prize?
I've kind of been riding a streak of good luck so far this year, and who knows – maybe it will continue with a $3000 shot in the arm from a humble little linking experiment…
Anyhoo, make sure you stay up to date on the action, as there are lots of cool sites out there that have been infected.