Some unexpected and interesting things have been happening to me lately, and I'm happy to report that today was no different. The exciting trend continued this afternoon when I received a short, sweet email that contained promises of free gadgetry and services – something that would even make engadget editors raise an eyebrow or two.
After someone from Sprint visited this humble website, they sent me an email with the following attention-getter:
The Sprint Ambassador Team recently visited Pearsonified.com and wants to invite you to participate in our Ambassador Program.
As far as I can tell, the purpose of the program is to create a feedback forum where people field test the latest and greatest products and services and then provide their two cents on their experience. In my case, I'll be testing out the very cool-sounding Sprint Power Vision Network, which is summarized on the Sprint website as follows:
The Sprint Power Vision Network provides rich, clear visuals, high–quality sound and broadband–like speed on your wireless phone. Watch, listen, play and do at the speed of life.
"Broadband-like speed on [my] wireless phone," huh? Well I'm definitely going to be scrutinizing that aspect of the service, as I've been looking for some sort of mobile internet access solution. Before I get too deep into editorializing, though, let me give you the rest of the scoop, which comes from the invitation email:
So what's the deal? As a qualified participant, we will send you one Sprint Power Vision phone and provide you with six months of all-access service (at no charge). You'll have access to the Sprint Music Store (SM) live TV broadcasts, gaming and more. Yes, you will also have unlimited free calling and data service. It's a pretty good deal and all we ask for in return is your candid feedback (you decide how much and how often).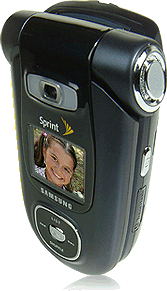 Yes, my friends, those are sweet words to be reading in your inbox. Oh, and I already got "qualified," so I'm good to go. In fact, the response email indicated that I'd be receiving my brand new Sprint Power Vision phone, the Samsung MM-A920 (pictured), in 2-4 weeks. In a previous life, I was heavily involved in the cellular/mobile industry, and one of the things that I took away from that experience was a distinct distaste for Samsung phones. It will be interesting to see if this phone will change that perception. Honestly, I hope it does, because that will make my experience as an ambassador that much more enjoyable.
Oh, and I just checked out the specs on the MM-A920 – this puppy retails for $299.99! Hell, it seems like it will rock…here's hoping it does!
Okay, I tried to hold off on the editorializing, but that's simply not possible. I'm stoked about this experience because
it's completely atypical for me to be involved in something like this
I get to try out a service that I was really curious about but probably never would have tried without a friend's insistent recommendation (probably 2 years down the road, argh)
most important, I'll have something to freakin blog about
Obviously, wireless broadband is going to open up virtually unlimited possibilities for mobile-philes everywhere, but I still remain skeptical as to how well TV and especially the internet translate to the mobile medium. Fortunately, I'm going to have the chance to find out very soon, so whatever I learn, I'll be sure to pass along.
Ah, and I just checked out the Sprint web site once more…get a load of some of the channels that will be available to me on Sprint TV:
ABC News Now
NFL Network
Fox Sports
ESPN
Fox News
NBC
The Weather Channel
Discovery Channel
…and lots more that probably aren't worth a damn
Damn blogosphere! You can't be unique for two seconds up in this mutha ****er. We interrupt this mundane, boring post to bring you another blogger who was invited to be a part of the Sprint Ambassador Program. Somehow this guy's thoughts go from cell phones to his penis, but then again, I guess it's this kind of stream-of-consciousness rambling that has made him a really popular blogger. See, I don't read that email from Sprint and make a vague association with my pieces parts, but I guess that's an area where I'll need to improve :-P
Note to self: running monologues with your penis are great for comments.
Update: I decided to do a Technorati search on the Sprint Ambassador Program this morning, and the blogosphere is abuzz with info on the topic. A fellow blogger, Vinny Carpenter, offers up a few more details about the program on his site:
At current, it's an invite only program that is targeting bloggers…This program is a clever attempt to get a Sprint phone plus free service to people that blog about technology.
Over at Micro Persuasion, Steve Rubel mentioned that Sprint has also launched a P2P campaign to generate interest in their products and services. Personally, I am a big fan of the way Sprint is attempting to exploit the blogosphere in order to gain publicity and exposure. To me, it represents a very keen marketing savvy, and I'm sure this is something we're going to see a lot more of in the future.
What's next, Apple giving out 12″ Intel Power Books? We can only hope!