Late late late last Friday night, I decided to try and launch a viral marketing experiment. Seven days later, I still have something to talk about. Score. In celebration, we're going to take a closer look at the numbers behind 7 days of unabashed coughing on non A-list blogs.
Instant Link Love
About 18 hours after the "outbreak" of The Indie Virus, I got instant linkage from three sites. In all honesty, I think the initial round of links should probably be credited more to my comments at Copyblogger than to the launch post on this site. Either way, I was surprised and pleased at how quickly the "hook" made tracks through cyberspace.
Because we all love lists, here's a look at link progress as it relates to this site (all data here is from Technorati):
March 11 (day 1): Although I only sent one outbound link in the first announcement, I received 3 links in return. Score! Summary to date: OUT 1, IN 3. Ya with me?
March 12 (day 2): Inspired by the early linkage, I sent out two more links. Lo and behold, I got two back – I find it interesting how willing people are to extend some link love when you combine attention with participation. Anyway, our summary to date is now: OUT 3, IN 5.
March 13 (day 3): I did nothing, but I still managed to get an inbound link. Rawk. Summary to date: OUT 3, IN 6.
March 14 (day 4): Tumbleweeds blew through the blogosphere. No love for The Indie Virus.
March 15 (day 5): One more free link. Who's your daddy? Oh, but I felt guilty, so I sent out 3 more. OUT 6, IN 7.
March 16 (day 6): Two new links, and a third from a site that had already linked once re: The Indie Virus (we won't count that one, though – much appreesh, nonetheless!). OUT 6, IN 9.
March 17 (day 7): Although the day is still young, I'll go ahead and report that I did receive one inbound link already this morning. At this point, two of the incoming links have come from pretty high profile sites, one of which is listed in Technorati's top 100 favorites! Summary to date: OUT 6, IN 10.
I'm pretty impressed by the results at this point. When I started the experiment, the honest-to-goodness goal was not to gain links for this site. In fact, I hadn't really even considered linkage as fallout from the buzz around the topic, but here we are. Of course, what good is a viral linking experiment if you can't generate some viral linkage? ;-)
Statistical Leaps and Bounds
If Technorati would ever update regularly, I could report on the progress there as well. Since we all know about their problems, I'll just have to mention that when I launched The Indie Virus, my ranking was somewhere around 69,206, and I had 91 links from 35 sites. Needless to say, I expect this to change pretty dramatically once the next round of updates comes in.
Not surprisingly, overall traffic to this site has been up in the wake of The Indie Virus experiment. Although I have had my share of traffic spikes over the last couple of months (largely thanks to this and this), I have not been able to sustain a very good baseline level of traffic. In essence, I have very few "regular" readers. It looks as though that may be changing, because my most recent Alexa graph shows a sustained level of traffic like I've never had before.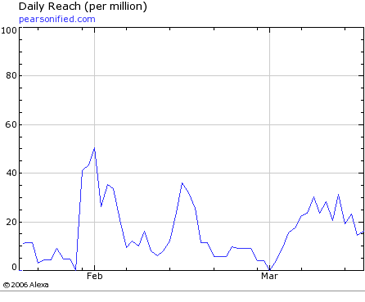 What the search engines have to say…
Technorati says…19 links from 11 sites (I have to sift through the crap to come up with those numbers – actual results may vary!).
Google Blog Search says…13 links from 9 sites.
Yahoo! says…Ummm, what a mess.
Google's regular search was a total mess, too. Although I don't see how I missed it before launching the experiment, mohawked, forum-trolling freaks everywhere have long since referred to something called the "indie virus" as it relates to bands, record labels, and things of that ilk. As a result, Google's search results are full of all kinds of forum results, so I really can't tell what the hell is going on there.
Google's blog search was a bit better, and further inspection now leads me to believe that this site has been sandboxed! What a crock o' crap that is, eh?
For all its problems, Technorati appears to be the most reliable and most up-to-date source for tracking information that propagates throughout the blogosphere, which comes as a complete surprise to me. The chronological ordering of events really comes in handy, too.
Also, I oughta note that I found two more sites today (not included in the metrics) that had passed The Indie Virus around, yet they received no love from Technosnotty. Grr.
If any of you out there have ideas on how to track this better, let me know!
Milestones
When I launched The Indie Virus, I had a few things in mind that I thought could serve as "milestones" for the progress of the experiment.
Milestone #1: When somebody whose site I had never encountered before (prior to launching the experiment) not only found out about the virus, but also passed it along to somebody else whom I didn't know.
Milestone #2: When 50 sites have linked to me while mentioning the Virus
Milestone #3: When 100 sites appear in Google's, Yahoo's, or Technorati's search list with 100% matches on the term "Indie Virus."
Milestone #4: When "Indie Virus" or any permutation thereof appears in Technorati's top 5 search strings
Milestone #5: When I'm worth $1MM
Uhh, ok, so maybe that last one is BS. Despite that, I'm happy to report that on the 6th day of the experiment, we achieved milestone #1!
Welp, that about does it for now, eh?