Chris Pearson is Serious. Sometimes.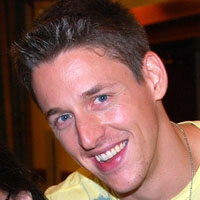 Originally, I wanted to write up an introduction where I jokingly referenced myself in the third person, but I looked around and discovered that the rest of the Internet had already done it.
Oh well—looks like I'll have to shoot straight from the hip instead. Fortunately, this happens to be one of my specialties, and you'll see what I mean when you check out the interviews below.
Creator of Thesis, Founder of DIYthemes.com
Since late 2005, I've been building websites and forging a presence online, and as time has passed, I've become obsessed with finding better and more efficient ways to do these things.
Eventually, this obsession led me to build a business around my desire to optimize and improve websites, and in March of 2008, I launched DIYthemes.com and the Thesis Theme Framework for WordPress.
Because of Thesis' popularity and my enthusiastic, outspoken character, I've been able to speak at industry trade shows, participate in interviews, and spread the word about building the highest quality websites.
Interviews with Chris Pearson
Deep Thoughts (or not)
The goal of my work on the Web is to help as many people as possible build and run successful sites.
It's all about deliverables. You want attention? You want to increase business? You want more Web traffic? Get some deliverables, my friend.
I earned a Mechanical Engineering degree from Georgia Tech, but soon after graduation, I realized that I absolutely cannot stand about 99% of the jobs that mechanical engineers have. So much for that degree! Sorry, Mom… It was still money well spent :-D
Unfortunately, I must inform you that I am not available for hire. It's not because I'm booked; I just prefer to focus on my own creative endeavors.
About the Design
You are currently viewing this site's fourth-generation design, which was built from scratch on a Mac using Photoshop, TextMate, WordPress, and Thesis. Typography is the foundation upon which I built the site, and as you browse, you'll notice three fonts at play here: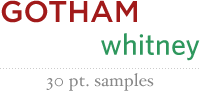 The content is elegantly served in Georgia, a killer serif typeface that you'll find on just about any Mac or Windows machine.
The title of the site, sidebar headings, and infographics are primarily served in uppercase Gotham, which is unquestionably my favorite typeface.
The navigation menu and indicator graphics (like "my bio" on this page, for instance) are all presented in Whitney.
Oh, and finally, I've run through a slew of rotating banner images on this site over the years, and every now and again, I have to retire a few due to old age, irrelevance, or me being absolutely freakin' sick of 'em. Head on over to the banner graveyard if you're into moribund pixel-age.