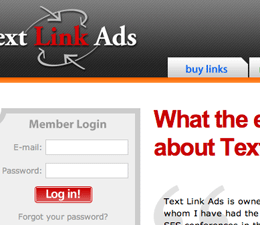 Yesterday, Patrick and the team at Text Link Ads quietly unveiled my newest creation. Given that I worked on the site for a solid month, it was extremely nice to finally see the work come together in a finished product. Without a doubt, this was the largest, most diverse site that I've worked on, and I've got a stylesheet 10 miles long to prove it!
It was an honor to even be considered for the job, and I'm extremely grateful for the chance to work with Text Link Ads on their new site. The crew over there is not only professional, but just flat out cool to boot.
As far as design stuff goes, I really tried to create a unique brand for TLA. I think the new site has a look and feel that definitely identify it as "soooo 2006," and I hope that all you out there will agree that it's got a progressive nature about it. Although I hate the term, I honestly believe that TLA now not only acts the part of "Web 2.0" but looks it as well.
As always, I'd appreciate any feedback you could provide, be it positive or negative. Oh, and one of these days I'll actually construct a portfolio where information like this will ultimately reside, along with design notes that will be far more detailed and revealing than what you've just read.