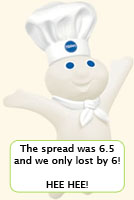 I love football. Especially pro football. Why? One word: gambling! And I'm not alone. Betting on football is officially a cultural phenomenon, and it's undoubtedly the reason why the NFL is our new national pastime. Sure the games and drama are great, but NOTHING, and I do mean nothing, says lovin' like meaningless touchdowns late to cover the spread!
Of course, it's not all fun and games. When your team recovers a fumble on the 2 yard line with 1:30 remaining and they only need one lousy point to cover the spread, it doesn't sit too well when the coach decides to take a knee. This would be the appropriate time to stand up and cuss out the TV.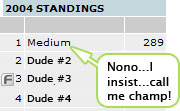 Anyway, why the hell am I talking about all this? Every year, I enter a fantasy football pool where a few of us pick games against the spread, and at the end of the season, somebody takes home a fairly decent paycheck. The past 6 years, I've finished in the top 3, and last year, I was the runaway champ. This season, however, has been different, primarily because I have SUCKED. Starting new websites, moving into a new house, and life in general are crushing my desire to study the league like I have in years past, so at least there's a reason for the suckage.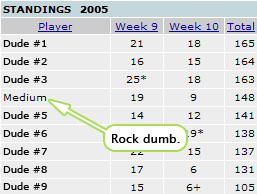 My performance has been so poor that I've decided to do something to spruce up the excitement. This week, I'm going live with my picks and shamelessly putting the goods out there for all to see. Maybe by the end of this, I'll have to change my name to John Anthony.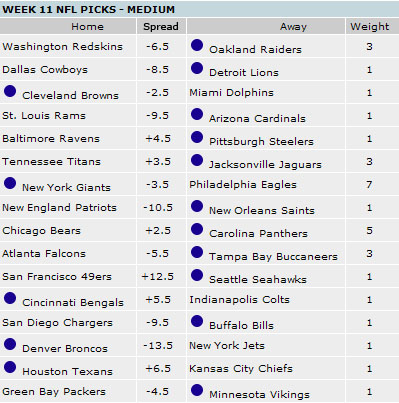 Well, if I make a stunning comeback this season, it'll all be documented here. Feel free to rip my picks in the comments – odds are, most of em are wrong anyway! MAYBE :)