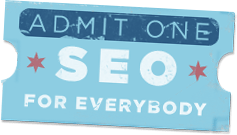 Ever since I launched the new design here at Pearsonified, I've had the opportunity to learn about the little website tweaks that can make all the difference in things like:
Search engine rankings
Traffic
Reader participation (comments and trackbacks), and
RSS and email subscriber numbers
One thing these little tweaks have in common is they tend to be extremely easy to implement, especially if you already have a bit of experience under your belt. Another, more unfortunate thing they have in common is the fact they are not as widely known or practiced as they ought to be!
Over the next few days, I'm going to change all that by compiling five of the most effective tips and tricks I've learned into one simple, easy-to-implement series of posts. This is your ticket to SEO for Everybody; now get in line and get ready to take your site to a new frontier!