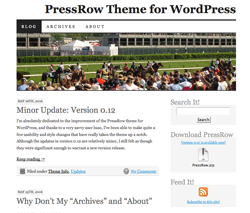 What's the most rewarding part of your job? Is it collecting a pay check? Solving a problem? Helping people?
Lately, the one thing that really keeps me going is providing support for the PressRow theme via comments, email, and update releases. The PressRow home site (edit: link removed) has grown to become a pretty useful resource thanks to users' comments and suggestions, and it's been fascinating to watch the community grow without a lot of external advertising or exposure. The theme itself is completely open-source, and generally speaking, I think open-source communities have a genuine feel about them that gives people the warm fuzzies.
It's all about what floats your boat
The thing about PressRow development that's most appealing to me is the fact that through my continued support of the community, I'm able to create and foster something that people can use, talk about, and feel good about. Granted, my base of users is still tiny at this point, but being able to help them with their problems and improve the theme simultaneously has proven to be completely gratifying. I have no problem throwing two hours of my day at this despite the fact that it pays nothing.
Obviously, you can't make a living on nothing, so it takes a bit of doing to turn your passion into your livelihood.
I'd call that part of the process your job.
Find your groove through prioritization
Before I gave the issue much thought, my work-related priority list looked something like this:
money
product
business efficiency
stability
network
expansion
personal satisfaction with the business model as a whole
happiness derived from work
That list probably seems ridiculous to some of you, but let's face it – personal happiness rarely registers very high on the corporate priority list, so I don't think my old list of expectations was too far out of bounds. Also, I held on to this belief that money would make me happier, so I viewed "happiness derived from work" as an entity that was completely separate from overall happiness.
A couple of crappy business models and a few epiphanies later, my work-related priority list now looks like this:
happiness derived from work
continued learning through skillset expansion
personal satisfaction with my "product" (day-to-day output)
creativity
network
stability
money
Money is no longer a motivating factor for me or my work. Despite that, the economics behind my business situation have helped to create an interesting "thought puzzle," where I am now presented with the task of monetizing the things I enjoy doing. The real challenge lies in the fact that there is no established business model that I can just step into and say, "This is how I'm going to do it."
On one hand, that kinda sucks. On the other hand, it serves to validate everything I've done up to this point.