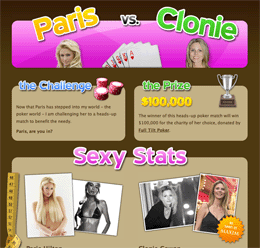 In the wake of my How Much Should a Design Cost post, I received an ironic amount of emails from people (and companies) who were interested in both my work and my prices. The most unique and creative inquiry came from the head SEO guy for an online poker company. The project?
Clonie Gowen, the reigning "poker goddess," is set to appear in Maxim Magazine in the very near future. To capitalize on her already-burgeoning fame, she's going to challenge Paris Hilton to a $100,000, heads-up poker game for charity. The poker company wanted a small, simple site that would serve as both a linking hotbed and an informational repository for the proposed celebrity matchup. Enter me.
Will Paris play Clonie?
All the info about the "Paris vs. Clonie" matchup can be found at ParisPlaysPro.com, which is, of course, what I created. Oh, and there's a poll at the bottom – be sure to vote!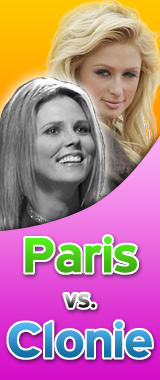 Paris has been quoted as saying she's "lucky in Vegas," and she's certainly not the type to turn down a good PR opportunity. Because of that, I think she'll definitely accept the challenge – assuming she gets wind of the whole thing. Fortunately, there is a confluence of PR avenues at work here:
Press releases today
Blog promotion and submission
Tonight (Thursday, June 22), Clonie makes an appearance on Fox Sports Net's Best Damn Sports Show, and she'll be talking about her appearance in Maxim and the challenge with Paris
Clonie will also be pimping the matchup (and thus the website) over the next couple of weeks via public appearances
All media outlets – from mainstream media to the blogosphere – love tossing around Paris Hilton news, so I think it's a safe bet that Paris will, in fact, visit the website…or at least one of her pesky agents will.
Obviously, I hope Paris accepts the challenge, because that will mean I played a small role in a massive publicity stunt…and any experience I can gain in that area is good for the future.