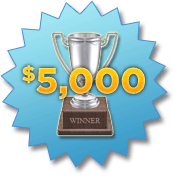 The NFL season is only two weeks away, and the action at Pro Pigskin Pick'em is really heating up! With over 580 users, the application is poised to "go platinum" this week, so I figure now is the perfect time to raise the stakes.
And what better way to do that than by giving away a wheelbarrow full of money, right?
This season's grand prize is $5,000 in cold, hard cash, and if you want to win, you've gotta out-pick everyone else on Facebook. Think you've got what it takes? Somebody does, and they're gonna go home with the booty.
Oh, and lest I forget, there are weekly prizes, too! If you're the top scorer on Facebook for a particular week (there are 17 of 'em!), then you'll get a nice prize for that as well.