…unless they're idiots, in which case you should make fun of them on your blog. Today I'm going to grace you all with a lovely tale from the retail side of things. Think of a beautiful story of love, compassion, reason, logic, understanding, and excellent grammar…and then take the exact opposite of all that :)
In today's story, all correspondence is reproduced exactly as it came to me. Ver-freakin-batim, baby, mistakes and all.
LATOYIA, I love you.
Ohhh LATOYIA, when I first saw that you ordered stuff from my crappy online store, I was so excited. Oh, except that you bought them via PayPal, and the people who sold me the store conveniently forgot to mention that orders paid for with PayPal never got entered into the system…No matter, though, LATOYIA, because I immediately sent you an email asking which handbags you had ordered. You know, because you're my customer, and I love you.
Gosh, LATOYIA, you know, this isn't working out like I had expected. I took a closer look at your PayPal payment, and it says here,
PLEASE DELIVER TO MY JOB AT THE KANSAS CITY CANCER CENTER
But you know what, LATOYIA, you only gave me your home address! And, well, while I'm sure I could look up the address for the place you specified, I sure would hate for the United States Postal Service to lose your package. Come on, LATOYIA, write me back so we can work this out. I've already sent you two emails, and now I'm getting nervous…
Oh, LATOYIA, you finally replied to my email, and hey, it only took seven days. That's not too bad, right?
HI WHEN I GO TO CHECK THE STATUS OF THE 2 HANDBAGS I ORDERED, IT SAYS NO ORDER WAS PLACED BUT I DO HAVE THE PRINT OFF, OF THE TRANSACTION. AND MY ACCOUNT HAS BEEN CHARGED THE AMOUNT, SO WHAT IS GOING ON, AND WHY DON'T YOU POST A PHONE NUMBER, WHERE SOME ONE CAN REACH YOU BECAUSE I AM NOT ON MY HOME PC, I'M AT WORK, CAN SOMEONE PLEASE CALL ME AT [number here], AND PUT ME AT EASE BECAUSE I AM NOT A HAPPY CAMPER…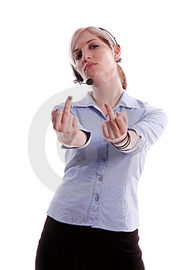 Wait, wait just a second here – it looks like you didn't read my email at all! And why do you use all caps with everything you write, LATOYIA? Take a breath while you're yelling, why don'tcha? Sheez, now let me try to sort this out…Well, I don't have a phone number because invariably, someone like you would blow my phone up and drive me effin crazy. As for your personal situation of being at work, why in the hell did you decide, seven days later, that this is suddenly a federal case? Oh, LATOYIA, I'm so sorry that you're not a happy camper, but you're really starting to look stupid. I'm talking rock dumb.
Look here, another email! Maybe you've finally read through what I've sent you, and now you're "AT EASE." Or hell, maybe you're not. Go on, girl.
HELLO! THIS IS LATOYIA OLIVER I PURCHASED THE LOUIS VUITTON WHITE SPEEDY 30, AND THE COACH OPTIC SIGNATURE SPEEDY BLUE-MEDIUM, AND IT WOULD BE A VERY NICE GESTURE IF YOU WOULD THROW IN SOMETHING FREE DUE TO THE ISSUES I HAVE BEEN HAVING, AS SOON AS I RECEIVE MY BAGS I'M SURE I WOULD BE A VALUED CUSTOMER, AND I'M SURE I WOULD LOVE MY BAGS. ANOTHER ISSUE I WANTED TO ADDRESS IS COULD I HAVE THAT SHIPPED ASAP, SINCE THIS WASEN'T MY FAULT. THANK YOU.
You know, LATOYIA, you don't make much sense. According to you, I should "THROW IN SOMETHING FREE DUE TO THE ISSUES [you] HAVE BEEN HAVING." To me, it looks like your issue is that it took you 7 days to respond to my email, and now you're upset because we weren't able to get this worked out sooner. Gosh, all those suppositions you made really got me thinking, though. Maybe I ought to ship those out after all…
Oh, LATOYIA, LATOYIA. Your prosaic mastery never ceases to amaze. Your sense of timing is impeccable, too. I just love your follow-up email to that last one, which you sent only twelve hours later. I don't know, maybe you expected your bags to show up twelve hours after telling me which ones you ordered?
THIS IS THE SECOND E-MAIL DESCRIBING THE TWO HANDBAGS I ORDERED, WHY HAVEN'T YOU RESPONDED? REMEMBER YOU HAVE MY MONEY ALREADY, YOU WERE QUICK TO TAKE THE MONEY, AND I WANT WHAT I PAID FOR. AGAIN I ORDERED THE LOUIS VUITTON SPEEDY 30 IN WHITE, AND THE COACH OPTIC MEDIUM SPEEDY IN BLUE. PLEASE YOU NEED TO SEND MY ITEMS ASAP!!! YOU SHOULD SEND IT 2-DAY SHIPPING BECAUSE THIS IS A MISTAKE ON YOUR PART, AND IT WOULDN'T HURT TO THROW SOMETHING IN FREE, IF YOU LIKE TO KEEP ME AS THE VALUED CUSTOMER I COULD BE, I AM A VERY UNDERSTANDING PERSON, AND THINGS DO HAPPEN, BUT COMMUNICATION IS THE KEY TO GOOD CUSTOMER SERVICE. THANK YOU.
Your clairvoyance astounds, too, Miss LATOYIA. I couldn't agree with you more – communication really is the key to good customer service. But then, why didn't you respond when I tried to communicate with you in the first place? Moreover, why are you yelling now? Do you hear yourself when you talk? Do you read what you write? You know, LATOYIA, it's hard to love you when you toss around such twisted logic. Oh, and I see right through your suppositions. Sure, you could be a valued customer…But then, you could also be the biggest freaking idiot I have ever encountered. If it wasn't for your unintentional humor, LATOYIA, I think I'd have to dump you.
Gosh, though – I'd still like to get your bags to you. Maybe I'll do the two-day shipping thing you talked about. Let's see, if I do that, you should get them on Saturday…
WHERE ARE MY PURSES, I WILL TURN YOU GUYS IN IF I DON'T RECEIVE MY PRODUCTS, THIS IS CALLED FRAUD, I HAVE ALL MT RECIEPTS, AN DI WILL GO TO THE PROPER AUTHORITIES. I TOLD YOU TWICE WHICH ONES I ORDRED.
LATOYIA, you said two day shipping! Why would you email me the very next day and bitch? Are you living in a different time-space continuum than I am, and maybe I just missed that little tidbit in a previous email of yours? I'm so confused. I think it's time I wrote you back. Here's what I have to say:
Latoyia,

You need to calm down. I have tried to send you two emails to an address at [email address], but both of them were returned due to fatal errors at the recipient address. It looks as though you haven't checked that email in a while. Regardless, I'm headed to my retail store tomorrow (which is an hour away from my home) to either get your bags or refund your money, depending on the status of my supply.

I apologize for the inconvenience, but I didn't learn until yesterday which bags you ordered, because you finally responded to my prior emails. Since I was unable to make it to my retail store today, the earliest I can go is tomorrow, and that's exactly what I plan to do.

You're not getting screwed, and apparently, you've not received my emails because I don't think you'd feel like that if you had.

If the bags are still in stock, they'll arrive next week. Otherwise, you'll get your money back – ALL of it. Ok? This isn't a scam, and you need to find your caps lock key and hit it.

Thanks,

Chris
Little do you know, LATOYIA, that now I'm just playing games with you. You see, my stupidity detector is buzzing like Tara Reid at an open bar, and now I just can't help myself. I know I'm not going to send you any bags, and I also know that I'm going to end up refunding your money. In the meantime, though, I'm going to see how many of your buttons I can push. I'll give it a few days to see if you crack.
LATOYIA, I can read you like a book. Four days after receiving my last email, here's what you said to me:
HELLO! I'M ALMOST AT THE POINT OF BEING PISSED OFF, IF I HEAR NOTHING FROM YOU PEOPLE BY THE END OF THE DAY ABOUT MY PURSES, AND OR MY 127.00 DOLLARS ISN'T REFUNDED TO ME ASAP, I WILL GO THROUGH THE PROPER CHANNELS TO GET MY MONEY. SIGNED: PISSED OFF……..,…..
Well, LATOYIA, I see that you went from almost pissed off to totally pissed off in the span of one short email. Impressive. Okay, okay, I give in. I'm refunding your money, and I'm sending you an email to let you know that I've done so.
Are ya happy now? No. No you're not.
You just won't die, will you? Five days after supposedly receiving my email about your refund, you're at it again. Only this time, you've apparently misplaced your spell checker and also lost the ability to read my emails.
THIS IS LATOYIA OLIVER AGAIN, I HOPE YOU DIDN'T THINK I 'D JUST GO AWAY, BECAUSE I WON'T, WHAT EXCUSE ARE YOU GOING TO E-MAIL ME ABOUT MY PURCHASES WHICH CAME TO 127.00. I STILL HAVEN'T HERD BACK FROM YOU POEPLE, THE MANAGER WAS "SUSPOSED TO GO TO THE WAREHOUSE", AND SEND MY PURSES, WHICH WERE A GIFT TO MY MOTHER FOR HE BIRTHDAY, WHICH WAS A WEEK AGO, AND OF COURSE I HAD NO GIFT, AND NO MONEY TO BUY ONE FOR HER. I DON'T SEE HOW YOU CAN RUN A "BUSINESS" LIKE THIS . I DON'T SEE HOW YOU CAN SLEEP AT NIGHT, I DOUBT I'LL RECEIVE ANY RESPONSE FROM YOU, I'LL BE REAL SURPRISED IF I DO, I'M NOT ANGRY, I'M HURT.
Poor LATOYIA. I loved you, but you pushed me away. But you know, honestly, I really did think you'd "JUST GO AWAY," especially considering that I refunded your money five days ago. Apparently minor details like that just don't matter to you, though.
Also, LATOYIA, I'm quite certain that I didn't say that I was "SUSPOSED" to go to my warehouse, because I simply don't make egregious errors like that. Well, at least not in public. Anyhoo, I'm terribly sorry to hear about your mother. Is that the best sob story you could come up with? Oh, no, wait – you didn't have any money, either. Gee, that sure is sad. You know, if I only had $127 to my name, I doubt very seriously that I'd be blowing it on the internet on knockoff freakin handbags for my mom.
And as for sleeping at night? I sleep like a baby, thank you, because I know that I can spin our little fairy tale romance into juicy blog fodder. Ta ta!