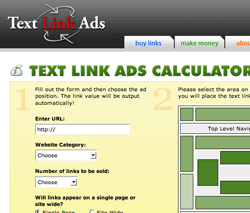 Ever wonder how much a link from your site is worth on the open market? Well, stop wondering already, and head on over to Text Link Ads to check out the brand-spanking-new Link Worth Calculator (edit: link removed)! Get a good idea what you could earn each month from text links, and find some of the comical easter eggs, too!
Of course, this slick little ditty was designed by yours truly, and the wicked-cool ajax form interaction was coded by Justin, the resident genius over at Rusty Brick. My favorite feature of the calculator is the all-CSS "heat map" position selector, which I believe may be the first of its kind ever to hit the web.
Finally, in an age where everybody wants to make some money off of their blog, I'd like to add my two cents to this mix. Here are your options, as I see them:
Wait forever for your AdSense account to crank up over $100 so you can get that first check. Once you get it, you can go buy gas and a decent dinner for two…Enjoy!
You can sign up to publish ads with TLA, and you can start getting paid monthly. Your revenues will crush those produced by the piddling AdSense ads, and you'll save some face on your design.
Also, be sure to check out the discussion on the Link Worth Calculator (edit: link removed) over at the Link Building Blog (edit: link removed), which was the first site to receive a commissioned "Pearsonified" design!