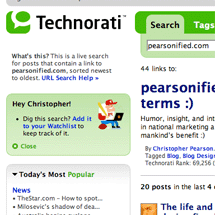 Since this week is all about design, I figured it was only appropriate to send out The Indie Virus to a few people whose work I truly admire. All kinds of elements are in play on quality websites – like graphic design, code, and depth of content – and I think today's recipients really bring all three of these into play in a big way. Prepare to be inspired, as The Indie Virus is about to go to places that ought to make A-listers jealous!
Unparalleled Artistry
Okay, up first is the best artistic designer on the web, Veerle Pieters. There, I said it. I wish it were me, but it's hard to compete with someone who actually has real artistic ability. I have yet to see anyone balance color, form, and words in a way that is so vibrant and yet so right on. You've just gotta love the work that this Belgian web designer churns out.
Veerle's talent landed her on a couple of panels at SXSW this year, and I'm pretty sure those were some of the most entertaining panels at the show. Unlike many others, I'm sure she pulled out all the guns during her presentation, and I'm bummed that I missed out on it while I was in Austin. Oh well, you can still follow The Indie Virus on over to Veerle's Blog, and prepare to be amazed!
PS: The "take a ticket" roll of comments is priceless, but I totally think it's toilet paper! Either way, they're the best comments I've seen to date! Oh, and be sure to check out her artwork – dammit I wish I had stuff to show off like that.
Best Personal Site. Ever.
If you find a better personal website, let me know. Until then, however, Chris Glass's personal site is the undisputed heavyweight champion of the world in this category. Check it out, and make sure you click on all the different site categories, as he's put an incredible amount of effort into individualizing the different sections of his amazing personal showcase.
My favorite thing about the site? The photography, and I love how he ties his pictures into his near-daily blog entries. Oh, and he's from Cincinnati, so now the Indie Virus is reppin' the Midwest hardcore, yo!
Seriously, what a badass site. I'm in awe.
Aesthetic Code
I'm always envious of sites that utilize customized ajax and/or AHAH effects in a meaningful way. Case in point: Tony Summerville's Exit 404. Tony's got a site full of "smart" code that makes the user's experience more meaningful, and he's also a cool dude to boot. Check out the wicked-smooth comment preview feature on his site…ahhhh.
Anyway, I'm inspired by the awesome functionality at Exit 404, and I'm gonna send The Indie Virus his way to try and get him blogging again. Oh, and he's mentioned Georgia Tech in some of his posts, so maybe I'm a little partial to that, too ;)
Finally, a mini-update
The Indie Virus is moving along quite nicely, and I've gotten to see some really wicked sites thanks to all the linkage. My current favorite? The Orange Yeti. Unique design, professional graphics, cool as hell.
Check out the rest of the Indie Virus participants and dig all the underexposed badassness!