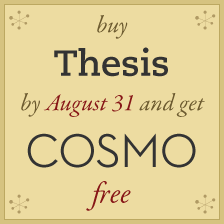 Thesis, my first premium WordPress theme, received a major update yesterday with the addition of a new design options panel. This revolutionary upgrade gives users an unparalleled degree of control over their site's layout by allowing them to specify fonts and font sizes all over the theme. In addition—and this is my favorite part—users can now choose a 1, 2, or 3-column layout with the amazing new layout constructor.
Oh, and if you're really a control freak, you can adjust the widths of the content and sidebars on the various layouts, too.
Seriously, folks… Stop looking for that one theme that is just right for your site, because it simply doesn't exist! Instead, check out Thesis—it's whatever you need it to be, and best of all, you get to call the shots.
And about that free premium theme? If you get Thesis before midnight August 31, 2008 (PST), you'll receive Cosmo, a magazine-style premium theme, at no extra charge as soon as I'm done creating it. Don't drag your heels, though, because I know you're going to want Cosmo once you see it. Besides, I really don't want to have to tell you "no" when you ask me if you can still get it for free even though you waited until September 1 to buy Thesis!