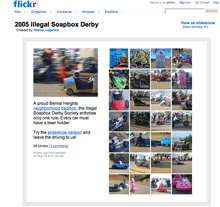 Whenever I get code on the brain (like this morning), I always have all these ideas running through my head. While most of them could only be described as "crackhead" at best, occasionally, I score a winner. Today's idea? A timestamp-driven Flickr plugin that would allow you to see a snapshot of the world at any particular time you want. It gets even better, though, so read on!
Turn those photos into a mosaic
Alright, the idea here is to make the Flickr plugin as pretty as it is cool. With that in mind, what I would like to see is not only a collection of all the pictures from a user-input time (down to the minute), but I would also like to see them output in a specified thumbnail size. So, what we'd have is something like this: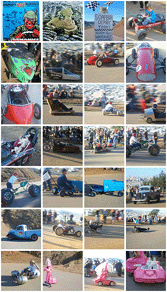 User inputs a time – May 26, 2006 at 3:41 pm
User selects a desired thumbnail size (40x40px or something like that) and submits the form
Plugin returns Flickr photos that were taken at that time and returns them via XML request
Resulting pictures are output in a styled fashion so that they comprise a mosaic of photos, and when taken together, this collection of photos visually describes the world at the desired time. Moreover, each photo would be a link back to the original Flickr image.
It would be even better if this plugin could be configured for WordPress (or any other CMS) and then automatically set up to display pictures from, say, 20 minutes ago. Essentially, this would allow you to have a completely dynamic page that would also serve as artwork on your site.
The intrigue factor
People love stuff like this. The idea of looking at a community-driven snapshot of the world at a particular minute is a fascinating idea. Turning it into art on your blog is even better!
I think TONS of people would jump all over a plugin like this. Then again, we all know how most of my "morning brainstorm" ideas turn out…