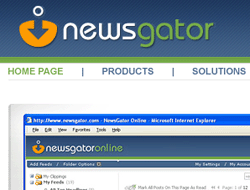 By now, you probably know that I'm a number junky, so it should come as no surprise that I normally spend part of my day picking apart this site's metrics. Ever since mid March, I've had an inordinate amount of "referrals" from NewsGator, and although I've checked out the referral URL, I can't figure out why I'm getting so much inbound traffic from them! Since I'm totally stumped, I'm now turning to you for the answer :)

Does everybody use NewsGator or what?
I guess the obvious answer to this question is that a huge number of Pearsonified readers also use NewsGator as their RSS solution. The problem I have with this is that no one has ever contacted me and said, "Duuuude, you just gotta check out NewsGator, it's the dope shizzle."
I haven't come across a large number of bloggers who herald NewsGator as the RSS platform of choice either. In fact, I have always been under the impression that FeedBurner was more or less the market leader outside of the Google and Yahoo! readers of the world.
Am I way off base here? Check out the referral metrics for this site in the graphic below: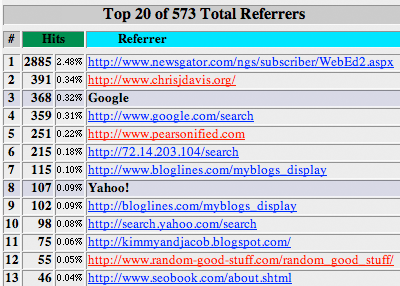 By more than a 7 to 1 margin, the NewsGator subscriber page is my number one referrer. Either I've got a couple of NewsGator readers who are spastically hitting the inbound link button to this site in order to satisfy some sort of weird obsessive compulsion, or else everybody and his freakin brother is on NewsGator, and I'm just out of the loop.
Before I go nuts, please provide me with some further insight into this issue! Do you use NewsGator? Do you have OCD and have to hit my inbound link 236 times because you have to do everything 236 times? What's going on here?